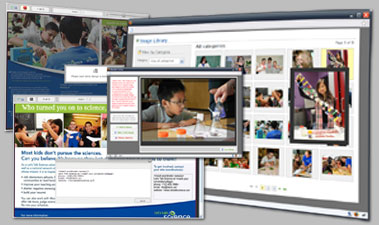 Web Solutions
Using today's communication technology, Accell is "in-house" and available with a keystroke. We can provide you with a secure custom order system which enables you to easily order your print documents online. These systems can incorporate print media management tools such as procurement, re-order, database management and e-commerce capabilities.
Talk to us about your e-solution!
e-Print Solutions
Does your company have multiple locations or more than one person who is responsible for ordering printed materials? We can help you eliminate your print management and procurement issues with our custom On-line systems. We'll create a custom Web-based ordering site for your company with an online catalog of your products. You control what's on the site and who can order, ensuring consistency, reducing waste and helping you control your inventory.
Multiple locations users order from single catalog
Secure ordering environment

Online shopping cart
Real-time shipping and order tracking
Web-to-Print Solutions
Our Web-to-Print solutions allow customized content editing, proofing and approval all online. After you've approved your order, we'll print and deliver it anywhere required. We'll help you streamline your ordering processes, control inventories and maintain brand consistency from your computer. Contact us to view our existing systems or preview templates.
Web-to-Print solutions are ideal for all frequently printed or frequently updated materials, such as:
Business cards, Letterhead, Envelopes
Manuals and Training Materials
Sell Sheets
Mailers and Postcards

Forms
Brochures and Magazines
Newsletters and Flyers
Web Services We Provide
Website Design and Development
Web Application Development
Web and Enterprise Portal Development
Web-based Database Management
Opensource Software Customization
Content and Document Management
Customer Relationship Management
E-Marketing & Promotion
SEO (search engine optimization)

Technologies We Love

Software We Use

Browsers We Support
"The Internet is becoming the town square for the global village of tomorrow. "
- Bill Gates