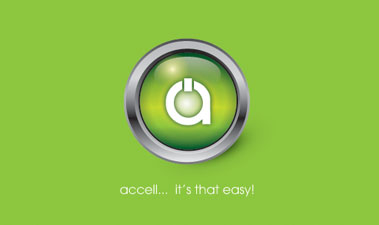 About Us
What's so different about Accell ?
We'll make you look good.
Whether you need a design that speaks, a package with pizazz, or sell sheet that sizzles, you'll find what you're looking for at Accell. And best of all, becuase all of our products and services are completeley in-house, we can do it fast!
Accell is a progressive company adept at providing solutions. We focus on partnering with our clients to design and manufacture unique solutions for their business needs.
We take pride in our level of technology. As a full service design and printing facility, Accell offers in-house design and printing, large format printing, full in-house bindery, plus complete mailing services.
Our people are what really make us different. People who are talented, experienced and dedicated to doing your job right the first time.
Commercial Printing
Daily Business Needs

Letterhead, Business Cards & Envelopes
Business Forms - Laser, Continuous & Snap Set
Manuals, Catalogues & Books
Labels - Sheets, Rolls, Die Cut, Variable Data

Sales & Promotional Tools

Brochures, Sell Sheets & Kit Folders
Post Cards & Greeting Cards
Note Pads, Fridge Pads
Calendars

Environmental Contributions & Certifications
Digital Printing
Full Colour and Black & White Printing
Variable Data Printing
Inline Collating

Inline Binding for Manuals and Reports
Same day Service
Large Format Printing
Retail Signs & Sales Posters
Indoor & Outdoor Banners
P.O.P.'s

Trade Show Displays
Backlit Displays
Gloss, Matte & Dry Erase Laminate
Mailing Services
Data Services

Disk / Data conversion
Data entry
Data enhancement (e.g. casing)
Merge & Purge
Address Verification and Correction (AV&C)
NCOA (National Change of Address)
Letter Carrier Presort (US & Cdn. Computerized postal presorting CASS certification (US)
Pressure Sensitive Labels
Personalized Laser Printing
Keycoding
Complex Selection

Fullfillment & Assembly

Product and literature fullfillment and distribution (Pick 'n Pack)
Warehousing & Order Taking
Manual & Kit assembly

Lettershop

Inkjetting envelopes
Labelling
Inserting (automated and manual)
Folding (automated and manual)
Wafer sealing (tabbing)
LCP & NDG soration
Unaddressed & Addressed Admail
Publication Mail
US Bulk Mail
Polybagging
Design & Prepress
Colour Scanning, Enhancement & Photo Manipulation
Electronic PDF Proofing & Calibrated Digital Colour Proofing
Layout and Production Work
Customer Supplied File Output
Web Design & Development
Web Application Development
Web and Enterprise Portal Development
Website Design and Development
Web-based Database Management
Opensource Software Customization
Content and Document Management
Customer Relationship Management
E-Marketing & Promotion
SEO (search engine optimisation)

Technologies We Love

Software We Use

Browsers We Support
"Johannes Gutenberg's movable type printing, is often regarded as the most important invention of the second millennium."
- Wikipedia